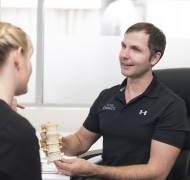 Dr Marcus McAllister
Chiropractor
Dr Marcus McAllister is trained in the knowledge of the musculoskeletal system (meaning the muscles, bones and joints) and nervous system (which coordinates all activities and functions) of the human body. He studied for 6 years and is educated in all dealings regarding the diagnosis and treatment of conditions affecting the nerves, spine and all joints of the human body.  Dr McAllister graduated from the New Zealand College of Chiropractic in 2007 and is a Chiropractic Board registered practitioner and a member of the New Zealand Chiropractors' Association.  Dr Marcus McAllister is licensed by the Office of Radiation to take x-rays to help locate underlying conditions to treat you with the best knowledge.  As a ACC Accredited Primary Healthcare Professional Dr McAllister has undergone ACC training in Preventing & Managing Discomfort, Pain & Injury.
He cares for all people of all ages including; performance and sports people, pregnant women, the elderly, babies and children. His techniques are based on his patients needs and range from Manual Adjusting Techniques (Gonstead & Diversified) to more gentle techniques (Toggle, Thompson & Activator Methods).
Interesting Facts:
Dr Marcus is the second eldest of fourteen children (yes you read it right 14 children), his family is known as the 'McAllister Clan'. Marcus' mother is the Dimples lady whom you may have seen on TV or read an article promoting her designer label 'Dimples by Jane Anne' an exclusive New Zealand made designer infant wear www.dimples.co.nz Marcus' family have also been on 20/20 and have a feature article profiling the family in Waitakere mayor Bob Harvey book called 'WESTIES'. The family have also featured in over 50 magazine and newspaper articles as one of New Zealand's largest families.
Over his sporting career Dr Marcus has represented New Zealand in 3 sports including: Athletics, Waterpolo and Jetski racing. Currently he enjoys Trail running, going to the Tomfit Gym and spending time with his wife and two gorgeous wee son's Lachlan and Benjamin.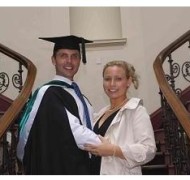 Kelly McAllister
Director and Office Manager
Kelly also Dr McAllisters' wife managers the accounts, marketing, organises the Office Ergonomic and Manual Handling Courses and is a full time mother to their two young son's Lachlan and Benjamin. Being a bit of an entrepreneur Kelly managers and developed our website from scratch, learning HTML and CSS code along way – adding another notch to her belt. Previous to becoming self-employed Kelly had worked for over 15 years in a project management role where she was involved in the overseeing of IT systems support, risk assessment, statistical analysis, and quality assurance. Kelly has a Certificate in Small Business Management and brings to the table many great qualities including exceptional organisational skills, cheerful upbeat 'can do' attitude and a great sense of humor.
Anyone that know's Kelly would tell you "she is a free spirit and is always laughing and smiling'.
On a personal note Kelly has represented New Zealand in Jetski racing and is a keen runner who runs in the forest close to her home 3-4 times per week and competes on a regular basis.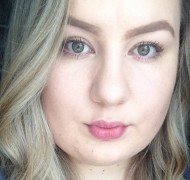 Jodie Kain
Chiropractic Assistant (CA)
Jodie joined the team at Dr Mac Chiropractic in September 2016. Having trained at House of Camille and gaining a NZQA and ITEC Diploma in Beauty Therapy Jodie brings to Dr Mac's a genuinely warm attitude and caring manner.  She love's coming to work and meeting patients and watching the progress patients make with their journey of chiropractic care.
In her spare time she loves going to the beach or doing anything beach related. Jodie is recently engaged to her partner of many years and loves being at home with her fur-baby Rocky a 6 year old rescue cat.
Lets get started…